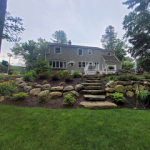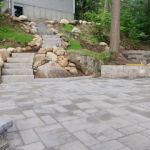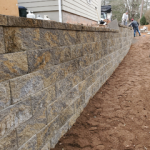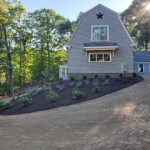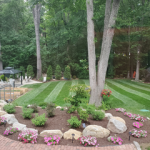 Landscaping Design – Let us create a beautiful landscaping design or bring your ideas to us. We will work with you throughout the designing and installation process to make sure you are 100% satisfied with our work.
Patios, Walkways & Retaining Walls – Patios and Walkways add value to your home and improve the appearance of your yard. Let us design and build a space that draws you in and suits your needs for outdoor entertaining and relaxing. We offer a large selection of stones and paving materials that can help create a new look and feel. Whether its creating a new outdoor living space or expanding a yard to make it more usable we have the knowledge and experience to make your yard the envy of the neighborhood.
Excavation and Drainage – Do you have water problems in your yard, runoff from downspouts, ponding, low spots uneven areas? We can help. We have the knowledge know how and experience to create a problem free area. We have the experience and machines for all jobs both big and small. Let us design a plan that will eliminate your problem area and beautify your yard.
Property Mowing and Maintenance – We can provide weekly lawn mowing and maintenance including weeding and trimming shrubs and perennials.   We also offer spring and fall cleanups and can provide a "freshen up" of your yard at any time of the year.